---
---
Rabinowitz-Dorf: Did the PR firm sell out Lithuanian Jewry to help the current right-wing government "change" the history of the Holocaust with American Jewish cover, while enabling "Fake Litvaks" to  misrepresent themselves as representing the Jewish community in Lithuania?
---
Recent articles in DefendingHistory.com related to the subjects covered by some of the comments:
See also the Fake Litvak, Double Games, and Double Genocide sections.

---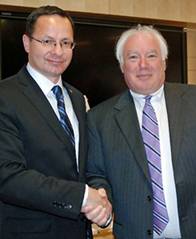 Zygimantas Pavilionis, Lithuanian ambassador to the U.S. (left), and Harley Felstein of the Lithuanian Heritage Project
Organizer: The Sunflower Project: A Jewish Lithuanian Heritage Project
Harley Felstein, project founder
Where: The Hyatt Lodge, 2815 Jorie Blvd., Oak Brook, Illinois 60523
When: 8-9 a.m. Sunday, April 15, 2012
Top-level individuals representing the Lithuanian government, Lithuanian-American groups, and members of the Jewish community, will be gathering for the first time in Chicago in an effort to begin to address lingering issues affecting Lithuanian-Jewish relations. The meeting is the second of its kind nationally — the first was in Washington in the fall. The gatherings are the initial stages of an exciting new endeavor, the Sunflower Project, a Jewish Lithuanian Heritage Project, recently established as a means to reconnect Lithuanian Jews and their descendants in the Diaspora to their Lithuanian roots, support a revival of Jewish history and culture in Lithuania, further awareness of these efforts, and foster positive interest in Lithuanian Jews and Lithuania among American Jews. Ultimately, the Sunflower Project seeks to transform and positively influence the nature of Lithuanian-Jewish relations.
The Lithuanian Embassy in the U.S. and Consular officials as well as Harley Felstein, the founder of the Sunflower Project, have initiated many cultural activities already this year and have plans for in coming months.
Attendees will include, among others:
– 17 honorary consuls to Lithuania from across North America.
– Lithuanian Ambassador to the United States Zygimantas Pavilionis
– Lithuanian Ambassador to Canada
– Lithuanian consulate generals in Mexico City, New York, and Chicago
– Michael Kotzin, Senior Counselor to the President of the Jewish Federation of Metropolitan Chicago
– Steve Dishler, Jewish Community Relations Council of Chicago's
– Director of International Affairs AJC Chicago Director Dan Elbaum
– Eugene Steingold, a Chicago lawyer born in Vilnius
– Alexander Domanskis, who is affiliated with the Lithuanian Foundation based in Chicago
– Stanley Balzekas, Jr., President and Founder of the Balzekas Museum of Lithuanian Culture in Chicago; board member of the Lithuanian American Council
– Harley Felstein, Sunflower Project founder, based in Washington
Contact: Samantha Friedman, Rabinowitz/Dorf Communications
(202) 265-3000; (202) 215-9260 (c); samantha@rabinowitz-dorf.com
Comments
---
Y. M. Dorn
Why do you give buffoons place in your news? Why does Lithuanian embassy keep talking about its sunnyflower project? It is hollow show where nothing is done. Why is embassy and its ambassador and who ever other person is making claims of action where nothing is happening except stuff at embassy and this meeting. This is just stunt. We Jewish Lithuanians and people in Lithuania should have better actions. This is foolishness and not sincere. Just look at picture. It is disgrace.
---
Harley
Who will be representing Lithuanian Jews at this event? The Lithuanian Jewish Heritage Project has a constituency of only Felstein, it does not represent Lithuanian Jews who have never heard of this. Ask who brought this entity into existence and who is funding it, no Jewish organization authorized it and the whole thing is a huge PR stunt by those with self interest.
Did Felstein create this, or did the Lithuanian Foreign Ministry create it?
Who, other than Felstein, does this "project" represent, and from where does it derive it's legitimacy?
Who, other than Felstein and Pavilionis have signed onto "Sunflower Project" and who authorized it to act on behalf of Lithuanian Jews?
Other than a PR exercise designed to confuse via names that are designed to sound legitimate, what are these entities about?
But first — who in the legitimate Jewish Lithuanian Community authorized Felstein to speak on behalf of Lithuanian Jews?
Why is a Jewish named PR company hired to publicize a Jewish sounding entity led by a Jewish sounding name, that has nothing to do with Lithuanian Jews?
I must emphasise that Felstein's 'Jewish Lithuanian Heritage Project' has absolutely NOTHING to do with the 'Lithuanian Jewish Heritage Project' which is run by the East European Jewish Project, which has been operating in East Europe since 1996. We did have a brief encounter with Felstein in connexion with a cantorial concert held in Washington last September. No funds from that concert ever reached any projects in Lithuania nor was any accounting given of funds despite repeated request. Another concern is that endorsements, using my name were solicited without my consent. Felstein was notified by us that we no longer wished to be associated with him in any way. He subsequently created his own organisation, complete with a PR firm (however paid for) with the obvious intention of confusing his organisation's name with ours. This has caused embarrassment for us as creditors, unpaid for food supplied for Felstein's cherished embassy parties, have contacted us in an attempt to collect debts.I cannot underscore strongly enough that we are not associated with any of Felstein's exercises, whatever their intended purposes, altruistic, antic or otherwise. The East European Jewish Heritage Project has never undertaken to represent local Jewish groups except, on occasion, at their request on specific matters. We supply assistance and support for renewal and the building of inter-community relations both amongst Jews and between Jewish and non-Jewish communities. We are also involved in heritage preservation and historical research. I am deeply concerned and resent any confusion between ourselves and this arriviste on the scene and on this cynical self-promotion.
F. J. Swartz
Director
East European Jewish Heritage Project
---
Boris Bakunas
Mutual understanding and reconciliation begins with dialogue. I am very happy to see that relations between the Lithuanian government and Israel are improving. In June of 2011, the Lithuanian parliament took a significant step forward in this noble endeavor. As the Jewish Chronicle Online reported: "Lithuania will pay more than £32 million in compensation for assets that the Nazis stole from the Jews during the Holocaust. The agreement, backed by a majority of the Lithuanian parliament at a vote on Tuesday, has been sought for years by Jewish organisations. The US state department praised it as "an important step towards historical justice and reconciliation".
Let us try to remember the what the ancient Chinese philosopher Lao-Tzu said, "A journey of a thousand miles begins with a single step."
Dr. Boris Vytautas Bakunas, PhD
---
Harley
This article says it was a "First Time Event", perhaps in Chicago, but this was not a first ever of this type of event. On September 16, 2011, there was a round table discussion held at the Lithuanian Embassy in Washington DC, which included Mr. Felstein as a participant.
Who appointed him to be there, what interests was he representing at that meeting, why have there been so many articles including Mr. Felstein, his son, his Lithuanian Jewish Heritage Project and his Sunflower Project on the Lithuanian Ministry of Foreign Affairs webpages.
Is Mr. Felstein a stand alone for the Jewish Lithuanian Heritage Project? Given Mr. Schwarz comment above that he is NOT on Mr. Felstein's Board, who is? Schwarz is the ONLY listed member of that Board.
The number of times Mr. Felstein has been seen out with the Lithuanian Ambassador indicates to me that they believe he is legitimate, or perhaps he is employed by them. No Ambassador would be seen out with somebody that regularly unless they had done their "due diligence" and verified that it is a legitimate organization, never mind having him featured so often and prominently on Lithuanian Government pages. So, is this a legitimate entity? It must be so if the Lithuanian Embassy is bringing him into Embassy meetings along with the Lithuanian Foreign Minister, the Speaker of their Parliament, the Chairman of their Foreign Affairs Committee, Vice Minister of Foreign Affairs, and so many other high level Lithuanian Government members.
The Lithuanian Embassy could not have invited Mr. Felstein to lead discussions on Lithuanian Jewish relations in front of their Diplomatic Corps on April 15, 2012 unless they had verified he was legitimate. They just do not open doors widely and allow anybody to command their entire Diplomatic Corps without verification of entity.
Perhaps the Lithuanian Embassy in Washington DC could shed some light on the questions raised?
---
Harley
A search for "Felstein" on the urm.lt website no longer returns any results.On Vilnews, a search for Felstein returns: http://vilnews.com/?p=13081 http://vilnews.com/?p=9949 http://vilnews.com/?p=4588 http://vilnews.com/?p=10768
as well as a great many more blog entries, etc.
Given the number of visits to the LT Embassy reflected in these articles, and the closeness that Mr. Felstein has worked with Lithuanian Government Officials, one must ask the question if he is registered under the http://en.wikipedia.org/wiki/Foreign_Agents_Regis…
At the April 15, 2012 meeting, AJC, Jewish Federation and other Jewish organizations were represented. What was told to them before they went; given that the moderator of the meeting was Mr. Felstein? Who did he claim to represent at that meeting and how did he manage to have part of the Embassy function devoted to his agenda if he is not an employee of the Embassy? If in fact this is not a legitimate organization, does this tarnish the Jewish organizations that were in attendance? If this is not a legitimate organization, does this extreme involvement tarnish the Lithuanian Government?
In the September 16, 2011 at the Lithuanian Embassy meeting, participants from USA were Rabbi Baker of AJC, Ms. Burdett of ADL, Mr. Davidson of the State Department, Mr. Hatfield of HIAS, Ms. Kaufman of NCJW, Mr. Kram of JDC, Mr. Levin of NCSJ, Mr. Mariaschin of B'nai B'rith, Dr. Radu of the US Holocaust Memorial Museum, Ms. Rosenthal from the US Department of State, Ms. Weiss of NCSJ, and Mr. Harley Felstein of the Lithuanian Jewish Heritage Project. Who brought him into that meeting and how did he develop the credentials to engage with such an august body of leaders?
On Mr. Felstein's website, http://ljhp.wordpress.com he reflects one Board Member – Mr. Schwarz, who says (in his comment above) that he is not on the Board. He also represents three advisory board members — Mokotoff, Marcus and Davidavicius. If as Mr. Swartz says, he is not a Board Member, are these 3 actually on the Advisory Board as claimed? We know that a number of other people have successfully had themselves removed from his Board, so, this begets the question: who does Mr. Felstein represent, under what authority, and what are his credentials to be so closely tied to the Lithuanian Government?
If this is not a legitimate entity, how will this affect the credibility of those involved in Jewish Lithuanian dialog in the long term?
Too many questions have been raised for there not to be any explanations. Given the number of press releases by the Lithuanian Jewish Heritage Project and the Sunflower Project and Mr. Felstein, they are not short of communication skills. Given the amount of time the Lithuanian Embassy has devoted to the Lithuanian Jewish Heritage Project and the Sunflower Project and Mr. Felstein, they cannot claim they do not have the time to answer, so might we have some answers to our questions?
---
Boris Bakunas
Who is Mr. Harley Felstein?In a April 16, 2012 article entitled "Restoring Jewish Cemeteries Is Harley Felstein's Mission," the Atlanta Jewish Times has Online highlighted a few of his accomplishments: "At JCANA's conference in New Jersey in 2008, Felstein met an actuarial expert who was involved in civil litigation regarding a Queens, N.Y., cemetery belonging to a synagogue; the burial ground was still in use but in bad disrepair. Felstein called the condition of the cemetery "deplorable" and "disgusting."
He convened a meeting of synagogue representatives, telling them, "What I saw [at your cemetery] I would not see in Poland," referring to Jewish cemeteries desecrated by the Nazis and then abandoned.
With Felstein advising the group about what was needed to get a restoration project started, the Jewish Federation of New York appropriated $140,000 to the Community Association for Jewish At Risk Cemeteries (CAJAC) to hire independent contractors to clean up the Queens cemetery.
'This became a focal point of my mission,' said Felstein, who spearheaded the formation of the Jewish Cemetery Renewal Project (JCRP). He joined forces with the JewishGen genealogy website to spread the word about the poor condition of independent Jewish cemeteries.."
Using the Google Search engine, It took only a few minutes to learn about Mr. Harley Felstein's tireless efforts to restore Jewish cemeteries. Thank you, Harley, for prompting me to do so. Mr. Felstein appears to be a man who acts in the service of a just cause he believes in — an example for us all.
Dr. Boris Vytautas Bakunas, PhD
---
Harley
Is there any doubt as to who Mr. Felstein represents? http://blogs.timesofisrael.com/mending-jewish-lit…Of course they are forward looking, because they have no intention of addressing the past and telling truth about what really happened.
Of course dialog would be good, but it has to be based upon truth, and given all the information above and lack of answers, truth seems to be in short supply.
I can only hope that a strong connection develops between the international Jewish "and specifically the Litvak community" with the people and government of Lithuania. There is an incredibly rich and beautiful history of Litvak life and culture before the war. Things can never be as they were but they do seem to slowly be getting better. I believe that the opening of the Vilnius Jewish Public Library on December 16, 2011 is one such positive step in the right direction. The Lithuanian government spent hundreds of thousands of Litas to make the project a reality. The Prime Minister, the Minister of Culture, MPs, and various members of the Jewish community all took part. I consider it a highlight of my life to have been there that day to speak before the audience at the opening ceremony. Let us all keep working together to improve things in the Jerusalem of the North.
---
Larry
The PR firm of Rabinowitz Dorf was hired to promote this, why is a Jewish sounding PR firm promoting a Jewish sounding entity, led by a Jewish name (all one and the same person but a Trinity sounds good huh!) So, who hired the Trinity? To hold this sham right around Yom Hashoah, how insulting to Jews.
Frank Swartz says he isn't on the Board, so who is? Felstein's webpage says that donation's go through Swartz's entity, but Swartz says no, so where are the donations going. www.guidestar.org doesn't show Lithuanian Jewish Heritage Project, so is it actually a charity? Therefore, all this fundraising – was any of it tax deductible for the donors? Any tax receipts at all? Any documentation anywhere? Any permits for work in Lithuania? Bank transfer information? Or, was it all for parties at the Embassy, and if so, was this just one big publicity stunt for Felstein or for the Embassy?
Boris Bakunas, sweet words, but I added to your research about Felstein: The only thing I see regarding Felstein and JewishGen is a message on the JewishGen Daily Digest dated January 8, 2010 – over 2 years ago." JewishGen is also pleased to announce two new partnerships, both starting in the fourth quarter of 2009: 2. The Jewish Cemetery Restoration Project, led by Harley Felstein, assists in restoring abandoned Jewish cemeteries around the United States. The Project will be adding burial records from these abandoned cemeteries to the JOWBR database. If you are aware of such sites, please contact Harley at harleyfelstein@yahoo.com
Nothing since (so what "tireless efforts" are you talking about Boris). It's very easy to talk; you Boris, could claim to be the Pope, but I'm not sure it would be considered true, and if you showed up at the Vatican claiming to be the Pope, wouldn't they check? So, did the Embassy ever check anything? Is Felstein a product of MFA, Ambassador Pavilionis, or just himself?
When you say that these are first steps Boris, and the first steps are this dishonest, who in their right mind would take a second step? If any of these questions are answered as it appears possible, that is the end of dialog for a long, long time.
Adding to your research Boris, I looked up if Felstein had any political articles prior to his pieces lauding Lithuania. I found NONE. So, it would seems that when the Lithuanian Embassy couldn't find a legitimate Jewish organization with whom to negotiate, they created their own Judenrat to make it appear that they found someone. This is the way to end dialog, not the way to create it.
The Lithuanian Embassy might allay some concerns if they would indicate to us if any prominent members of the Lithuanian Jewish Community or the International Jewish Community ever signed onto "Sunflower Project". Anyone? Anyone? Sorry, nobody! So when the Embassy is so obviously participating in a sham, why would they EVER be given credibility again?
The Embassy meeting was billed as "a meeting of top-level individuals representing the Lithuanian government, Lithuanian-American groups, and members of the Lithuanian Jewish community." But not one member of the Lithuanian Jewish Community was there. A PR Agency was, a few Jewish groups that were hoodwinked into attending were, but no organized, elected member of the Community that was in good standing, so negotiating with a straw man Ambassador Pavilionis? Surely you are better than that?Lithuanian Jewish Heritage Project has been in effect for at least a year. Might we see a single permit for any work, or evidence of any work? There are about 250 Jewish cemeteries in Lithuania, surely at least one municipality would have given you a permit if you had ever applied?. If you can't show a permit, could you at least show an application for a permit? Plans? Anything at all? Is this whole thing really that hollow?
When you wrote http://www.jpost.com/Opinion/Op-EdContributors/Ar… – you said Adrienne Oleck, was on your Board, but who is that? That person doesn't show on your Board at http://ljhp.wordpress.com/about-us/ anymore, but Mr. Swartz still does. I can't find much else on Google about Adrienne Oleck, could you offer more details about that person's political credentials? Who else was on this "Board" and why did they leave the Board? Olek obviously left, Salinger left, Puisyte left, who else? Surely the Lithuanian Ambassador would have been asking these questions before allowing Felstein free entry into the Embassy? But the more questions one asks, the more it appears that it was a joint effort between Felstein and Ambassador Pavilionis. Could someone please offer some answers to try to allay some of our concerns?
---
Larry
MORE of the Felstein PR media campaign to promote himself as the "spokesperson" for Lithuanian Jewry
http://www.jta.org/news/article/2012/04/22/309338…
Unfortunately, he speaks only for himself and Ambassador Pavilionis, the Lithuanian Jewish Community have their own spokespeople and it is most certainly not Mr. Felstein.
The very manipulated portrayal by Felstein is the Lithuanian official position, which whitewashes everything else they are doing. This is so repugnant. ZERO truth, zero accountability, just the way Lithuania wants it with their Jewish mouthpiece Felstein.
---
Haim Shmerl
Ambassador Pavilionis, the way to create dialog is not by installing a bought and paid for "Court Jew" to spout your lines for you, to make it appear Jewish voices are talking on your behalf, that is just pure deception. Having a media agency place repeated articles using your "Court Jew" and his very Jewish name to try to portray legitimacy is such a low road to take to try to make it appear legitimate. Who do you think you are kidding? Do you hold Jews in such low regard that you think we are this easily fooled? If you want to create dialog, have your Government issue Rachel Margolis a guarantee of free passage to Lithuania.
Have your Government come out with a clear and definitive statement that all the Jews that your Government accused of possible crimes are no longer under investigation. A CLEAR AND DEFINITIVE statement, not a nebulous, opaque statement. ARE THEY STILL UNDER INVESTIGATION OR NOT?
Address having made heroes of LAF members and obfuscating that people your Government has declared heroes were Jew murderers.
Have your Government CLEARLY condemned the interim 1941 Government for encouraging Jew murders, facilitating them, enabling them, promoting them. These Jew murderers are the people you absolve and declare as your heroes. SICKENING!!!!
Rename the Genocide Museum in Vilnius. There was only one Genocide in Lithuania, and your Government should tell the truth about it.
You installing a fake mouthpiece so as to try to change the conversation is FRAUD. Why would ANYBODY have dialog with Lithuania when instead of addressing the very critical issues, you hire someone like Felstein to go out & rent a media company to plant fake articles to try to present a different face.? How insulting to Jews, and how insulting to pull this right around Yom Hashoah.
You demean yourself, Sir, by participating in such a deceptive media campaign. Do you hold us Jews in such contempt that you think we fall for this Felstein joke? You might convince those that are uninvolved in Lithuania by putting forward Jewish names and Jewish sounding entities to make you sound legitimate, but all you are doing is showing us (yet again) Lithuania's agenda. This Jew is utterly offended.
---
Grant Gochin
My name is Grant Gochin, I am a Litvak that is very interested in Jewish life / history in Lithuania. My e mail is ggochin (at) gmail.com.
I am reading these comments with great interest and have a few comments / questions that I would like to add to this conversation.Mr. Swartz calls his Project:
Lithuanian Jewish Heritage Project, and
East European Jewish Project, and
East European Jewish Heritage Project
Reparations money is going to go to "The Foundation for Jewish Heritage, established jointly by the Lithuanian Jewish Community (LJC) and the World Jewish Restitution Organization(WJRO).
Mr. Felstein calls his entity: "Jewish Lithuanian Heritage Project"
The names are all very close. It's very confusing who is whom, and what is what. Mr. Swartz has been around a long time and his entities are known. Rabbi Baker, the LJC, the AJC and the WJRO have all been around a long time and are well known entities, so why would a new person show up on the scene, and begin using a name that is so close to other names already in existence? It is confusing. Then, from the information given above, Mr. Felstein, you seem to be operating out of the LT Embassy. It would be very natural for someone to mix up some of the words or to think that it was a Government endorsed entity, especially when being able to call on the Ambassador at will. So, Mr. Felstein, I think you should explain the differences in names and try to put all this behind you so you can go back to your "mission" of restoring Jewish cemeteries in Lithuania.
To allay concerns raised above Mr. Felstein, please advise if your "Jewish Lithuanian Heritage Project" is registered anywhere with any Government entity? There has been at least one "Cantorial Concert" Fundraiser, and other fundraising activities for your Project, so these must have been under the auspices of a registered charity that is IRS / Government authorized. Might we have knowledge of that entity please Mr. Felstein? I will gladly support any efforts towards restoring Jewish cemeteries in Lithuania, before I can do that, please advise full details of your charity, how much has been raised, what percentage goes to overhead and salaries, and how much is actually spent on cemetery restoration. Assuming all is in order, I would be pleased to assist your efforts.
You've been raising money and talking about your plans for probably over a year already. Do you have any results to show us of work accomplished?
There is so much work in Lithuania that is critically needed, I'm sure everything on these comment pages are misunderstandings and distractions, let's get these set aside and move onto the work that is critically needed. Are you able to assist, Mr. Felstein?
Grant Gochin.
---
Henry Adams
I am told by others that Mr. Felstein is not forthcoming with responses, so I too will ask my questions publicly, and hope that Mr. Felstein will send a reply.Lithuanian Jewish Heritage Project, Inc., is a Maryland, non-stock corporation established by on July 26, 2011, according to the business database of the Maryland Department of Assessments and Taxation, which is the state agency which registers and supervises legal entities.
That link is here: http://sdatcert3.resiusa.org/ucc-charter/DisplayE.
There are no amendments to the Articles. The articles indicate that there will be four directors, including Frank Swartz, who has publicly stated that he never saw an accounting for the funds raised by the Cantorial concert in September 2011, and that no money ever reached Lithuania, and that he is not associated with this entity. Mr. Swartz remains listed on the Board of Directors and is the ONLY Board member listed here: http://ljhp.wordpress.com/about-us
If Mr. Swartz is not associated with this entity as he states, why is his name both on the Articles of Incorporation, and on the webpage?
Your website states that US Donations are tax exempt through your parent organization, the "East European Jewish Heritage Project" that is an entity of Mr. Swartz, and he has stated publicly that no funds were ever processed through his entity, and that his entity is NOT your "Parent Organization".
The Cantorial Concert was promoted in order to raise funds, the flyer at http://www.jcouncil.org/site/DocServer/Lithuanian…
does not say that donations are tax deductible, and by that time, Lithuanian Jewish Heritage Project, Inc., had already been incorporated, so was it "non profit" or "for profit"? Participants seemed to believe it was "non profit". Under Maryland law, most-financial information about a charitable organization should be available online at http://www.sos.state.md.us/Charity/SearchCharity. It does not seem to appear there. Lithuanian Jewish Heritage Project also does not appear on www.guidestar.org , so is this entity a "for profit" or a "non profit" entity?
Maryland law requires that a charitable entity provide a financial statement upon demand,http://www.sos.state.md.us/Charity/DisclosureRequ…
Mr. Felstein, if your entity is a charitable entity, then according to that regulation, I'd like to see a copy of your IRS Form 990 or your 990-EZ.
The function stated for this entity is: "to provide awareness to Jewish Cemetery sites in Lithuania.", however your political articles have not been about cemeteries; so does that fundraising / expense fall under the auspices of "Lithuanian Jewish Heritage Project"? When you are out fundraising, are funds raised for cemetery restoration designated as tax deductible, and if so, under what authority?
In your political piece placed in the Jerusalem Post on November 23, 2011, you state that your co-author is Adrienne Oleck who you describe as a member of your "Advisory Board". She is neither listed in the Articles of Incorporation dated July 26, 2011, nor is she listed on your website as an "Advisory Board " member. What Board is she on and in what capacity?
On your website, you reflect only one "Director" but in your Articles of Incorporation, you list four.
On your website, you list three "Advisory Board" members, one of those is listed in your Articles of Incorporation as a Director.
Your PR Agency stated that you would be representing "Lithuanian Jews" at the Embassy meeting of April 15, was that meeting about Jewish cemeteries in Lithuania?
As a Corporate entity, please advise us who is on your Board of Directors, and who is on your Advisory Board. Certainly cemetery restoration in Lithuania has a large Academic Component, who administers that component?
You have become a well known, outspoken political voice speaking out in favor of Lithuania, in each article (that I have read) you refer to your Corporate entity to give you a linking to Lithuania. Therefore, as a matter of public credibility, please advise what comprises your "Lithuanian Jewish Heritage Project, Inc.," how it is funded, where monies are spent and the location of assets since formation of this Corporation. If you are a "For profit" entity, please advise that and I will then withdraw my questions.
---
Grant Gochin
---
Geoff Vasil
Fake Litvak project is fake.
I would be highly surprised if Simonas Dovidavicius, director of Sugihara House in Kaunas, an actual Litvak and a tour guide for Jewish groups in Lithuania, actually consented to allow his name to be associated with what is to all appearances a sham organization. Since Dovidavicius is publicly available for tours, speaks Hebrew, Yiddish and English as well as Lithuanian and Russian as far as I remember, it would be trivial to contact him and ask him if he is in fact a member of the board of directors of this Lithuanian Jewish Heritage Project. Just putting Sugihara House into a search engine easily turns up the telephone number there, although the museum's own website seems to be down at the moment.
How disgusting it is that the Lithuanian government CONTINUES to create and work with these fake Litvak organizations in an attempt to pretend the Holocaust never happened, or if it did, it didn't involve Lithuanians. Or not many. Maybe just one or two. Like the one or two court Litvaks who happen to blunder into the Lithuanian Double Genocide PR campaign and find new friends and job prospects there. "A Chicago lawyer born in Vilnius"… Is that the best they could do, this time? This HAS happened repeatedly, and no, none of the actual living real Lithuanian Jews I've spoken with about this had been informed, much less invited, to this Lithuanian diplomatic loya jirga in Chicago to discuss "Jewish issues" with the government officials whose salaries these same Lithuanian citizen Litvaks are paying every day in crazy levels of taxation.
I'm so happy Lithuania's government found "hundreds of thousands" in play money to park Wyman Brent's books—MAINLY DONATED BY AMERICAN JEWS IN GOOD FAITH—in a dark hole up an alley way with no sign on the street and a small sign in Lithuanian over the door in the alley, at a "library" employing a number of Lithuanians, but no Jews involved whatsoever. People like Sergey Kanovich write about the sand in the hourglass of the future of Lithuanian Jews running out, but the Lithuanian government seems determined to hasten the process so they can deal exclusively with a small cadre of court Jewish surnames they control and pay for. Eventually, Jakov Gens, oops, I mean Emanuel Singer, is gonna "fix" the whole Holocaust thing for Lithuania, and end up as the sole survivor of the liquidated ghetto and judenrat. That's what they keep telling him, anyway, and he seems to believe it, although of course there's gonna be jobs for every Jew and friend of Jews, he keeps telling those slated for extinction. Seems like this game has been played before and didn't quite turn out the way the top Jewish fixer intended.
The Fake Litvak project is obviously fake.
---
 Woodward Bernstein
For a bunch of smart people, you are not all that smart. Follow the money. Here are a few hypotheticals for you to mull over: A certain Diplomat knows that in a couple of years, a restitution deal may come along. There are barely any live Jews, so where would the money go – to Heritage projects. Part of that Diplomat's "mission" is to build dialog with Jews, but which Jew would talk to them? So, they had to manufacture one. The components of a manufactured Jew are one very Jewish sounding name, and a Jew that would sell his own mother, or prostitute his own son.The plot is to build that Jew an identity of creating "Jewish Heritage" projects, and so, create a name, such as "Jewish Lithuanian Heritage Project", because, in a few years, wouldn't that be a natural recipient for restitution funds, and if the Jew has an identity by then, a natural recipient of the funds. So, add to the recipe a few credible names to offer legitimacy (they can be removed later if so desired), and begin to build an identity.
No actual work is required, just a few public relations articles. Not difficult if you have friends that also have Jewish names that are in the PR business.The identity is then created. Now make it credible. Put the Jew in front of everybody you can to make him a known figure, so many Jewish names everywhere, who would question? In case anybody does, build a series of Jewish names, eventually, people would tire of looking. Next step, make him palatable to the Government so that they WANT to award him restitution deals. His game is to deal with the dead, so, a term for the dead is "pushing up daisies", but daisies are too small, the restitution is big, so change that to Sunflowers, and push them, and push them more. Build, build, build, deliver "white papers". Doesn't matter if the whole paper is white (blank), it sounds good. Photo op after photo op, and we have a name, a face, and a Jew that we WANT to award restitution to. Who is going to question it? The Jewish Community in Lithuania live under too much pressure. The American Jewish Community — they won't dig beneath the surface. Politicians?
No, a few Jewish names and a year or two of articles, and what is to question? Big money requires long term planning, so it has to be funded along the way. Build a business model where people just give you money. One Jewish cemetery looks like another, so take some photos of a restored one, and collect the money over and over and over, that should be enough funding to cover kosher dinners and Hanukkah parties, even a few bunches of sunflowers to make everybody happy. Sit back, and wait for the restitution money to roll on in. Retire rich, because a Diplomatic retirement plan isn't that rich, and some Johns out there haven't made a success of anything yet. The people that have posted on here are looking in the wrong direction. THINK!
Disclaimer: This is just a hypothetical for your consideration. Enjoy your day.
---
Alan 
As a child of survivors, it is obvious that Felstein is nothing more than a stooge (by the way the Three Stooges were Litvaks) for the Lithuanian Embassy in Washington. His organization needs to be investigated by the IRS for fraduently passing itself off as a charity and by the American Gov't for acting as a non-registered lobbyist for a foreign gov't. And is this PR firm a registered foreign agent?
Germany got caught and has admitted its guilt in the Holocaust. The Holocaust could have been prevented in Lithuania if the Lithuanians acted like theDanes or Bulgarians. But they didn't so the Lithuanians need to confront their past and admit that most Jews in Lithuania were not killed by the hands of the Germans but by the hands of the average Lithuanian Jurgis or Algis in the street. The Germans couldn't deny their role; however, the Lithuanians have pointed the finger elsewhere like a four year old child. Lithuanians need to look themselves in their mirrors. admit their role and perhaps a dialogue can start from there. Until then, people like Felstein need to be ignored by the Jewish community at large.
---